Our claims adjudication service provides payer customers with a cost effective outsourcing solution with the highest levels of first pass accuracy.
SecureAlly is a business process outsourcing solution for claims adjudication administered by a dedicated, knowledgeable, and accessible team of professionals insuring the highest levels of timeliness and accuracy.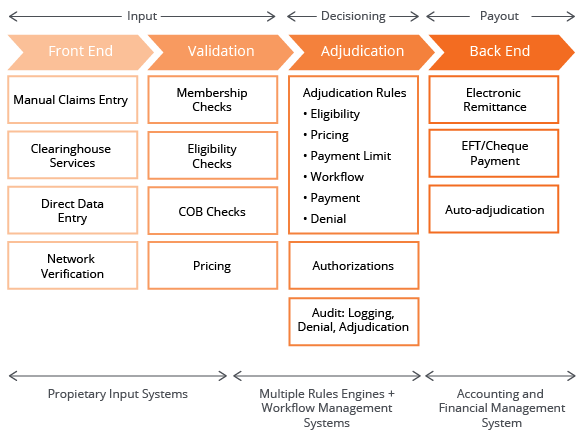 Certifications you can trust
Inmediata is an established company with years of experience and the certifications to prove it.  Inmediata completes an annual Sarbanes-Oxley Act (SOX) Section 404 COMPLIANCE (SAS70 Type II Certified) audit and a bi-annual Electronic Healthcare Network Accreditation Committee (EHNAC) certification.
System architecture that's robust and efficient
As a cloud-based solution, SecureAlly provides unparalleled flexibility to connect securely with providers and payers to optimize business processes.  The solution includes an integrated clearinghouse solution that manages most ANSI X12N transactions including eligibility, claims, claim status, and electronic remittance.  Members, providers, claims, and payments Information is updated and available real time.  Payers can take advantage of Inmediata's provider facing clearinghouse solutions including direct data entry for claims to give providers still submitting paper claims an easy to use alternative.
Our payer specific rules, developed over more than 15 years have proven to increase auto adjudication rates and to minimize denials resulting in reduced administrative expense and high provider satisfaction.  Adjudication rules insure provider compliance with procedure bundling, procedure frequency, and medication step therapy. SecureAlly's integrated rules engine uses National Correct Coding Initiative (NCCI), AMA Common Procedure Terminology (CPT®), Centers for Medicare and Medicaid Services (CMS), and payer specific rules to insure compliance with correct coding.
Comprehensive benefit management
The flexible rules engine supports complex benefit design and improves payment accuracy.  The solution can manage different benefit classes, copays, coinsurance, deductibles, maximum amounts, and pre-existing conditions overrides.
Our SecureAlly solution leverages a broad set of capabilities beyond adjudication including enterprise class workflow management, provider and member benefit management including user defined roles to insure productivity and security. 
Compliance is top of mind
At Inmediata, assuring security and avoiding fraud and abuse is part of every employees training.  The SecureAlly rules engine includes fraud detection logic.  High risk claims are reviewed by our expert team to avoid fraudulent billing.  Overpayments are automatically adjusted and recovered.
Robust reporting and analytics
SecureAlly provides customers with a comprehensive view into the claims adjudication process.  This includes duplicate billing, non-covered services, unbundled services, up coding, high dollar payments, over limits denials, members not eligible, and retro disenrollment.  Real time analytics include reporting of EDI run logs, claims aging, and utilization review reporting.
Inmediata strives for a 99% first call resolution. of all issues.  Customers receive direct access to a dedicated team of customer support and technical representatives.  We also make responding to customer needs as convenient as possible with phone, email, and chat options.